Handmade Gnocchi & Angelo's Bolognese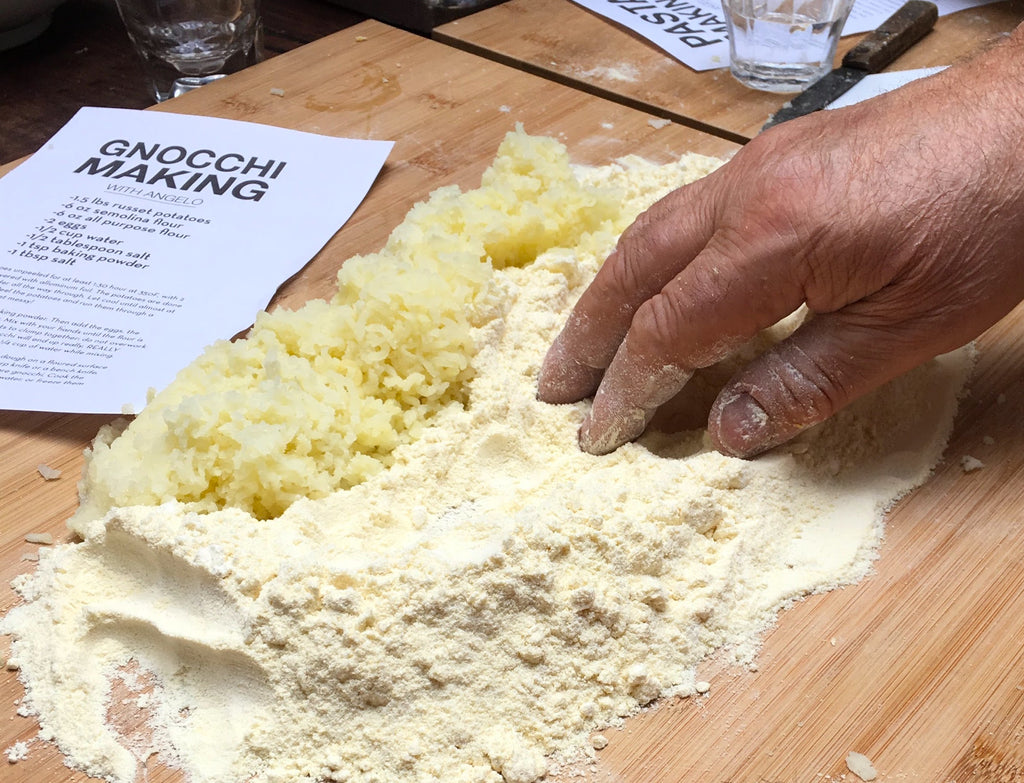 Angelo's Handmade Gnocchi
8 oz russet potatoes
4 oz semolina flour
4 oz all purpose flour
1 egg
1/2 tsp. salt
1/4 tsp. baking powder
Boil the unpeeled potatoes whole until soft when pierced 
with a fork, about 30 mins. Let cool until almost at room temperature.
Peel the potatoes and run them through a potato ricer.
Time to get messy!
Combine the flours, salt and baking powder. Then add the
egg, the potatoes and mix gently with your hands until the flour is
moistened and the dough starts to clump together: do not
overwork the dough, otherwise your gnocchi with end up
really tough.
With the palms of your hand, roll the dough on a floured
surface into ropes of 1 inch dimeter. With a sharp knife,
cut the rope crosswise every 3/4 inch-square gnocchi.
Cook them right away in a large pot of boiling water
or freeze them to void oxidation. ~Srvs 4-5 people
Angelo's Bolognese Meat sauce
1  cup onion finely chopped
3 cloves garlic finely chopped
2 carrots finely chopped
2 stalks of celery finely chopped
3 Tbsp. olive oil
2 Tbsp. Omnivore Sicilia
2  Tvsp. Omnivore SALT
4 cups organic diced tomato
1 lb pork
1 lb beef
Finely chop the onion, garlic, carrots and celery.  In a stock pot, heat up the olive oil and Sautee the vegetables for until golden brown, making a Sofrito. Put the ground pork and beef into the pot with 1 cup water+ SICILIA and Omnivore SALT + 1 cup of the diced tomato   so that the meat will break apart and not clump.  Cook for 15 minutes until the meat is cooked then add the rest of the diced tomatoes and cook down for 2 hours over med-low heat.