Arancini with Omnivore Porcini Salt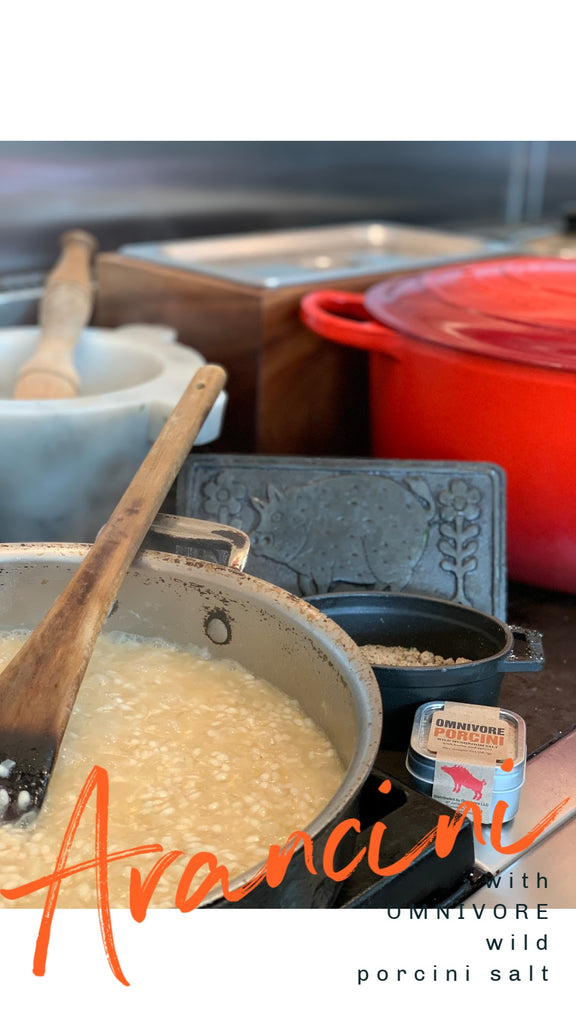 Arancini, which means little oranges in Italian, originated in Sicily. Name and appearance aside, arancini are not at all related to the orange fruit; they're stuffed risotto balls which are coated with bread crumbs and then deep fried. The most common fillings are with a meat ragu, peas and mozzarella cheese. But these we made with porcini mushrooms and stuffed with fontina cheese... see the recipe below and enjoy for the Holidays!
 
Ingredients
3-4 cups sodium chicken stock
1 cup strained from the mushroom water, you soaked the dried porcini 
1-2 Tbs Omnivore Porcini Salt
11/2 cups arborio rice
2 oz dried porcini
1 onion finely chopped
1 stick of butter
8 oz fontina cheese cut into ¼ cubes
2 large eggs
1/2 cup grated parmesan cheese
1 cup flour
11/2 cups breadcrumbs
Vegetable oil, for frying

   Instructions:                               
Soak the dried porcini in hot water until rehydrated, about 20 mins.
Melt the butter in a sauce pan and add the finely chop onion and sprinkle with 1 Tbs Ominviore Porcini Salt.

 

Cook over medium heat, until the onion is translucent.
Add the stock and porcini water and bring to a boil. Stir in the rice and 1 tbs of

 

Omnivore Porcini Salt,

 

reduce the heat to low and simmer until tender, about 30-45 minutes. 
Chop up the porcini mushrooms into small pieces and add to the saucepan and mix well.
Spread on a parchment-lined baking sheet and let cool completely.
Cut the fontina cheese into ¼ cubes and set aside.
Shape the mixture into sixteen 1 1/2-inch balls. Press your finger into the center of each rice ball, insert the fontina cube, then pinch the rice around the filling to enclose.
Set up 3 pans or shallow bowls to finish the arancini balls before frying. Put the flour in one, the beaten eggs in another and the breadcrumbs in the third one. You will coat the ball lightly with flour then dip it in the egg mixture, making sure to cover all side and finally you will dip it into the bread crumbs rolling it to cover it completely.
Heat 1 inch vegetable oil in a large saucepan over medium heat until a deep-fry thermometer registers 350 degrees F. Working in batches, fry the rice balls, turning, until golden brown on all sides, about 4 minutes. Remove with a slotted spoon and drain on a paper towel. Serve right away!