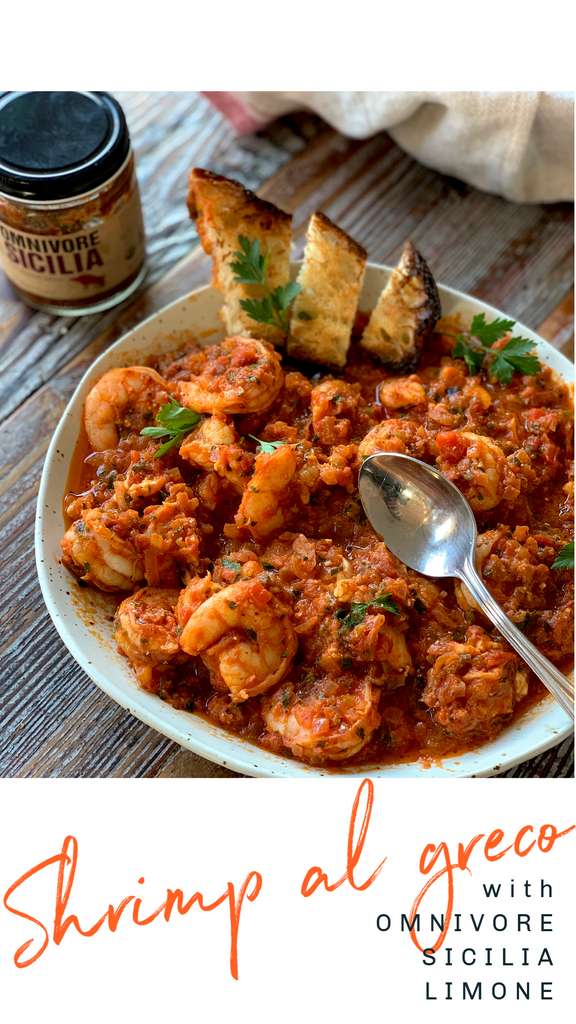 This savory, tangy dish is the perfect dip for the Holidays. Your family and friends will be in for a treat!
Ingredients
1 1/2 lbs of large fresh or frozen shrimp, peeled, head and tails off, deveined
6 tbs orzo or dry white sherry 
1-2 Tbs Omnivore Limone
2 Tbs SICILIA
1/2 lemon juiced
1 Tsp grated lemon zest
1 cup crumbled Greek feta
2 Tsp dried oregano
2 Tbs finely chopped parsley
4 Tbs extra virgin olive oil
1  red onion finely chopped
1 green chili, finely chopped
2 garlic cloves, chopped
2 cups chopped can tomatoes
Instructions:                               
Place the shrimp, the ouzo or sherry , and the lemon juice in a bowl, cover and refrigerate from 15 mins to 1 hour
In a large deep skillet, heat  2 Tsp of the olive oil over medium heat. Add the onion and the chili and cook, stirring until wilted. Stir in half the garlic. Add the tomatoes and bring to a simmer. Add the 2 Tbs SICILIA stir to blend. Season with Ominviore Limone. 

 

Raise the heat to medium high and cook for 15 mins, until most of the watery liquid from the tomatoes has evaporated.  
3. Add the shrimp and garlic, toss in the skillet and cook until shrimp turn pink. Spritz with the remaining 3 Tbs of ouzo or sherry. Stir in the lemon zest and feta. When the feta starts to melt , gently stir in the oregano and parsley. 
4. Remove from heat and serve with toasted bread.