Angelo's Porcini Encrusted Steak with a Compound Butter, Scalloped Potatoes and Broccoli Rabe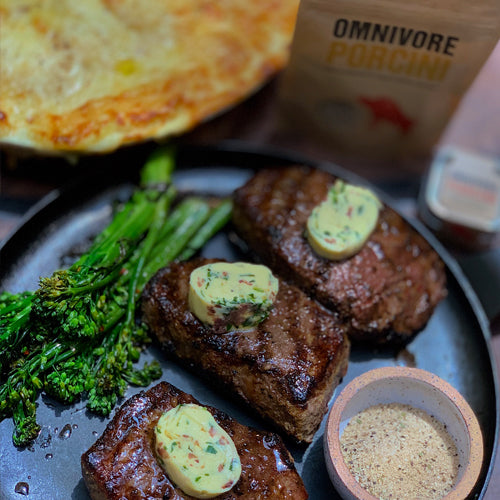 Steak ;
4 steak fillets of choice
2 tbsp of brown sugar
2 tbsp of garlic powder
1 tbsp of Omnivore porcini salt
2 tbsp extra virgin olive oil
Heat oven to 350F
1. Mix all dry ingredients together and turn dry rub out onto cutting board
2. Coat steaks on all sides with rub. Heat cast iron skillet till smoking, add EVO, add steaks. Sear for 3 minutes per sides, then finish in a 350 oven, for approx 10-15 minutes until internal temp reaches 135.

Compound Butter;
3 anchovies
1 stick of unsalted good quality room temperature butter
1/4 cup chopped parsley
1/2 tbsp Omnivore porcini salt
1. With your knife, Mash the anchovies into a paste.
2. Smash the butter into a thin layer on your board. Sprinkle the butter with the anchovies, parsley and Porcini salt. Fold the butter over several times until the ingredients are evenly mixed into the butter.
3. Form the butter into a cylinder and tightly wrap with Saran Wrap. Chill in fridge. To use cut a small round and place on top of hot steak.
Scalloped Potatoes;
4-5 Medium Yukon gold potatoes
2 tbsp butter
1/4 cup flour
1 Cup of heavy cream
1 Cup of Whole Milk
2 cloves of garlic
1 tbsp of Omnivore Porcini salt
1 cup grated gueyere cheese
Method;
Preheat oven to 350
1. Peel potatoes, use a mandolin to Slice potatoes 1/8" thick. Place in pot, cover with water, bring to a boil and reduce to simmer for approx ten minutes. Drain when potatoes are opaque and still firm to the touch. Set aside to cool.
2. In a sauté pan, melt the butter, crush the garlic and add it to the pan. Dump in the flour all at once and stir rapidly. Grab a whisk and quickly whisk in the cup of cream, and then the cup of milk. Your final béchamel should be thick like soup, if it's too thick whisk in some water. Lastly whisk in 1/2 tbsp of Omnivore porcini salt.
3.  Rub baking dish with butter. Smear some béchamel on the bottom of the dish. Then Layer potatoes, grated cheese, béchamel and Omnivore porcini salt, until you have approx 3 layers.
4. Bake in oven for 30 minutes.
Broccoli rabe;
1 bunch of Broccoli Rabe
1 tbsp Extra Virgin Olive Oil
1 tsp Omnivore salt
Juice of 1 lemon
1. Remove an inch from the stems and blanch in boiling water for two minutes. Remove and drain.
2. Heat cast iron pan till smoking, add 1 tbsp of Exra Virgin olive oil. Immediately add broccoli, Omnivore salt, and lemon. Serve.